Bottom line, it's a preference in-game style. Do you want to rush through the monsters and raid the bosses over and over to try to get the best gear, or do you want to challenge yourself to see if your tactics, reaction to unexpected dangers, and skill can keep your character alive all the way through the end game.



To me, Hardcore (HC) gives a much greater challenge than just being able to resurrect, regroup yourself, and try the same encounter again. You have to be very thoughtful about the gear you use, the skills you employ, and when/where you face your enemies. It's much more challenging and exciting than simply running through things without worrying about whether or not you'll get killed.
The point is to test the limits of your character. How much more interesting is it to turn a corner and be completely surrounded by demons, knowing that if your unprepared your going to lose everything? Gets your adrenaline going. You have 1 shot at life. In my opinion, this almost creates a bond between you and your HC character. I like the adrenaline rush you get from those close encounters with death and come out on top.

Things to be aware of about Hardcore Characters:
-Nothing leaves or enters hardcore mode from any other mode.
-You get way more added stress and anxiety that you just don't find in softcore. It would be cool if a dead hardcore character would just revive in softcore mode, but unfortunately they don't.
-Your Banners in hardcore mode will get extra stuff!
-Diablo 3 is a bit harder in hardcore mode than Diablo 2, since you can no longer pre-cast a town portal in the corner of the room to be ready for a quick getaway!
-No real money auction house will be available for hardcore characters.
-The mechanics and drops of hardcore are the same as Softcore. The only difference between softcore and hardcore is the fact that if your character ever dies, it is permanently dead. Everything else is the same.
-There are special achievements for developing hardcore characters.
-I would practice playing softcore mode all the way to level 60 before starting a hardcore character.
-Studying professional hardcore strategy guides for Diablo 3 would greatly help your chance of living. Diablo 3 Gold Secrets By Peng Joon provides these guides and more.
-It is possible to Powerlevel Hardcore Characters, but you need to be very cautious about it!
How to deal with a character death
It's going to happen, and eventually you learn to get over it, and it becomes part of the fun in a way. (If you still can't get over it within a few major losses, you probably shouldn't be playing hardcore.) One strategy for getting over the loss quickly is to level several characters at the same time, and try to keep them within 10 levels of each other. (With 5 new classes to play, people are likely to do this anyway.) That way when you die, you have a character to jump to quickly without having to start from scratch right away.
This is the game over screen for hardcore characters: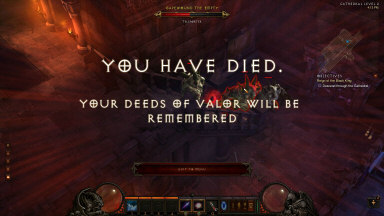 --If there's no reason to fear failure, there's no reason to covet success.