If some of you are working on the achievement Adenath the Curio Vendor and are having problems trying to find the House of Curios (which is where the Vendor is always at), then this guide may help some..
First take a look at this picture of the Fields of Misery: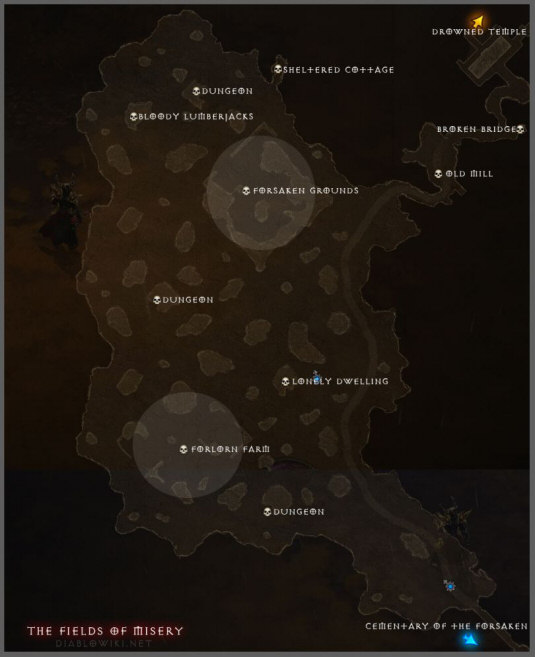 The 3 points marked dungeon and the one marked lonely dwelling are random spawn points for the 'event' tiles.

There are 4 of these tiles on the map, and this is where the problem is:

- 1 will ALWAYS spawn as a waypoint.
- 1 will ALWAYS spawn as the Khazra Den.
- 1 will ALWAYS spawn as either the Scavengers den or the Lost mine.

This leaves 1, and only one tile space, to be randomly chosen from for the House of Curios, the trap-ed scarecrow, the destroyed camp, and 2 empty tiles (a small fenced area or burned tree stump).

It's RNG (urgh) which of those 5 tiles you will get.

It's easier to start at the cemetery and if the First event tile you come to is one of the 5 random tiles (but not house) you can start again straight away without running around the entire map :)
It may take a number of game reloads to finally find the house.
Khazra Den Reload:
Some found it easier to go into the Khazra Den, then leave the game and then reload. You will reload outside of the den each time, hit "m" and you will already have 2/5 of the random tiles.
Need help obtaining all achievements in-game? I would check out the Diablo 3 Gold Secrets By Peng Joon Guide, there's a small fee for it, but well worth it.